How to reach Munnar from Bangalore
We do not have to explain the beauty of Munnar as you are trying to reach Munnar from Bangalore. Munnar will unwind, relax and give you the much awaited holiday. Bangalore to munnar distance is around 500 Km. Munnar is 500 Kms north of Bangalore. You have several options to reach Munnar.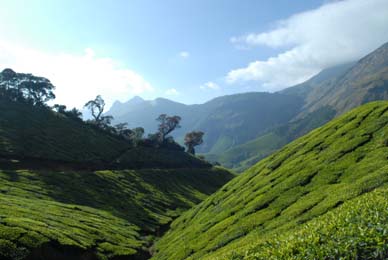 How to reach Bangalore to munnar by air ?
There are direct flights from Bengaluru International Airport (BLR) to
Cochin International Airport
(COK). Cochin / Kochi airport is located in nedumbassery which is near to Anagamaly. Once you reached Cochin airport, you have to depend on cab to reach munnar. There is no direct bus from airport to munnar but if you come to angamaly from airport (around7 KM), you can catch bus from there but if you are with extra luggage then avoid this route. Pre-paid Taxies available for around 2400 for a munnar drop (for a non a/c indica). Or for the best of your comfort and relaxation you can book holiday heaven's
Munnar Tour Packages
that start from Cochin.
How to reach Bangalore to munnar by air by Train?
Ernakulamis the nearest railway station when travelling from Bangalore. There are plenty of services from Bangalore to Munnar. Ernakulum to munnar is different story. There is no train service from Ernakulam to Munnar. You have depends on road transport. There are plenty of buses from Ernakulam but it will take minimum 4-5 hours to reach munnar. Roads are not that great so the journey may be quite tiring in a public transport. Cab is option if you take a packaged taxi so they will pick you from Cochin and sightseeing in munnar and drop back to munnar. See munnar tour packages from Holiday heaven. You probably save time by cab and you have the convenience of stopping and enjoying the tour on route to see attractions.
How to reach Munnar from Bangalore by Bus?
There are daily bus services from Bangalore to munnar. There are private, Kerala and Karnataka govt owned bus Services. They are luxury semi-sleepers and back breaking ordinary buses. Normally buses start in the evening and reach munnar by morning. The same buses will leave munnar by evening. It roughly it takes around 10 hours. Karnataka givt. bus stand is in old munnar ( 1-1.5 km away from munnar town) .
How to reach Munnar from Bangalore by Car? Munnar to Bangalore Driving directions
Bangalore to munnar via road is approximate 500 kms (depends on shortcut you make). Following the main towns you cover en-route to munnar. Bangalore - Hosur - Krishnagiri - Dharmapuri - Salem - Perundurai - Avanashi – Udumalaipettai – Marayoor - Munnar. (Distance given below are approximate)

Bangalore - Hosur (45 Kms)
Hosur - Krishnagiri (58 Kms)
Krishnagiri - Dharmapuri (49 Kms)
Dharmapuri - Salem (70 Kms)
Salem -Perundurai (88 Kms)
Perundurai - Avanashi (37 Kms)
Avanashi – Udumalaipettai(70 Kms)
Udumalaipettai –Marayoor (50 Kms)
Marayoor- Munnar (60 Kms)

The total time to travel may take around 12 hours so better option will be beak your journey and overnight stay somewhere and have a fresh start next morning. Udumalaipettai- marayoor-Munnar is not an ideal night time driving route as you may encounter wild animal like elephants. Even though most of them are harmless better schedule your time to reach munnar before 8:00 PM