Munnar Tourist Attractions - Places to visit in Munnar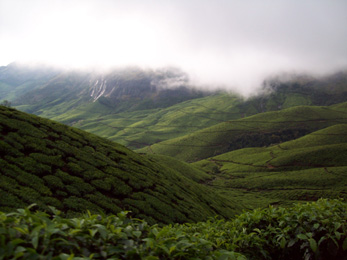 The unique Munnar places to visit during your stay at Holiday Heaven
Eravikulam National Park
13 km from Munnar is a national treasure and an important part of Kerala Tourism where you can see the Nilgiri Thar (Hemitragas hylocres) - an endangered species of mountain goats, lion-tailed macaque, leopards, tigers and the rare splendor flora and fauna.
Mattupetti Dam
10 km far from Munnar is a most frequented and popular picnic spot where families can enjoy a fun-filled day activities like boating and horse riding. It is a perfect day-out for children.
Echo Point
A 15 km travel from Munnar will take you to Echo Point. It is called such because of the natural phenomenon of hearing echoes while you are there.
Top Station
It is a famous tourist attraction where you can experience being amidst the clouds and feel like you are really up in the heavens.
Kundala Lake
Experience rowing a boat in the middle of this beautiful lake while enjoying in the magnificence of the surrounding forest.
Kolukkumalai Tea Estate
This extraordinary tea factory is situated atop a 7130 ft peak. Learn about how to prepare organic tea from scratch while enjoying the enthralling mountain top view.
Pothamadu
6 km far from Munnar is where you can find captivating plantations of tea, coffee and cardamom. Strolling along the plantation and enjoying the natural scent of the crops will be energising.
Attukal
9 km away from Munnar is a panoramic view of waterfalls and rolling hills. Be sure to take a picture of this one of kind scenery.
Marayoor
This is a little futher from Munnar but it is well worth the trip to see an intricate piece of history with relics and murals coming from the stone age within the caves.
The above are the most famous Munnar Tourist Attractions but as a nature lover, you will see endless beauty of nature in Munnar and probably end up with less free time after your dates with Munnar places to visit.